Fillon's wife Penelope is placed under formal investigation
Comments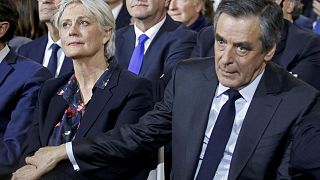 French magistrates have placed the wife of presidential candidate Francois Fillon under formal investigation over allegations that he paid her for a fake parliamentary job.
Penelope Fillion is under suspicion of complicity in misappropriating public funds.
Accusations
That Fillon arranged for his wife to be paid 500,000 euros in salary over eight years for working as his assistant when there is little evidence of any work.
That he paid his two children, Marie and Charles, when he was a senator, as lawyers for specific tasks, but neither was a qualified lawyer at the time.
There are also separate questions about a job Penelpope Fillon had at a literary magazine owned by a billionaire friend of the couple, for which she allegedly did little or no actual work.
The announcement by magistrates comes two weeks after Fillon himself was placed under formal investigation in the same case. Their decision brings the couple one step closer to a trial.
It is a further set back to the conservative politician's bid to win the presidential election which takes place in two stages in April and May. Fillon who had begun as favourite has seen his campaign falter since the scandal broke several months ago.
Both deny any wrongdoing.
François Fillon's wife officially charged over embezzlement of public funds https://t.co/uDhx8KeESapic.twitter.com/bwjRMLmXsz

— WorldNewsPolitics (@WorldnewsPoli) March 28, 2017