NFL approves Raiders' move to Las Vegas
Comments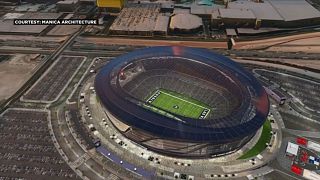 The NFL gave its approval for the Oakland Raiders to move to Las Vegas, paving the way for the building of a 1.75 billion euro stadium in Nevada.
The plan by Raiders owner Mark Davis, who has been the driving force behind the relocation effort, won the support of 31 of the league's 32 owners.
It marks the second time Oakland fans will see the Raiders leave the city where they began play in 1960 in the old American Football League. The team, known for its black and silver uniforms, played in Los Angeles from 1982 to 1994 before returning to Oakland.
The Raiders will become the second major professional sports franchise to be based in Las Vegas, following in the footsteps of the NHL's Golden Knights.
Well now it feels officially official. "LASVEGASRAIDERS</a>" plastered across the canopy at <a href="https://twitter.com/FSELV">FSELVpic.twitter.com/A3ppcVY4Yf

— David Schuman (@david_schuman) 28 March 2017