Carlos the Jackal, the bin Laden of his day
Comments
By Euronews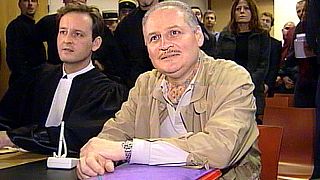 Always defiant despite his many years in prison, Ilich Ramirez Sanchez, or "Carlos the Jackal" as the world knows him, is now 67.
"Ilich Ramirez Sanchez, also known as Carlos the Jackal, is due to go on trial Monday for a deadly attack in a… https://t.co/dB44JUmCbR

— Gerry Gagnon (@GeraldHGagnon) March 15, 2017
Even before he was given a third life sentence this week for a hand grenade attack on a Paris shopping centre in 1974 Carlos had a string of convictions.
In 2011 he was convicted of killing 11 people and injuring nearly 200 in a string of attacks in France.
One was on the Rue Marbeuf in Paris, in April 1982. A car bomb in front of the headquarters of the newspaper El Watan Al Arabi killed one person and injured 63 others.
The previous month, a bomb had killed five people and injured 77 others on the Paris-Toulouse train.
 
In December 1983, Carlos attacked civilian targets in France twice: one on the Marseille-Paris train, the other at the Gare Saint-Charles in Marseille. Five were killed and 50 others injured.
 
His biographer has described him as the Osama bin Laden of his day, and indeed Carlos the Jackal has expressed his admiration for bin Laden,
"I think he represents a past era in international terrorism when the principal cause, the so called popular cause, was Palestine, a free Palestine, and of course Marxism," John Follain, a biographer of Carlos the Jackal said. 
"I think terrorism has evolved so much that today he represents a solitary voice in the desert, a pretty old fashioned voice," he added.
Born in Venezuela's capital Caracas in 1949, Ilich Ramírez Sanchez, adopted the name of Carlos when he joined the Popular Front for the Liberation of Palestine in 1973.
In January 1975 Carlos organised two failed rocket attacks on Israeli El Al airliners at Orly airport, near Paris, one on the 12th and then amazingly one a week later.
 
His main feat however, the one that sets him up as an icon of Arab revolutionaries and extreme left-wing activists, is the operation against the headquarters of OPEC in December 1975 in Vienna.
Carlos and five accomplices kidnapped 66 people including 11 oil ministers in an operation which killed three others.
 
After several days of negotiations, 50 hostages were released, and the rest were flown to Algeria where the ministers were released and Carlos secured political asylum.
But it was in France that Carlos was finally held accountable for his actions.
Seized by French agents in Sudan in August 1994, he was sentenced three years later to life imprisonment for the murder of two police officers and their informant in Paris in 1975.
 
Even his personal life has been extraordinary. He married his lawyer Isabelle Coutant-Peyre in a Muslim ceremony in 2014 after converting to Islam. Unsurprisingly, the French authorities have managed to deny the couple a civil marriage.