UPDATE Russian opposition figure Navalny fined over 'illegal protest'
Comments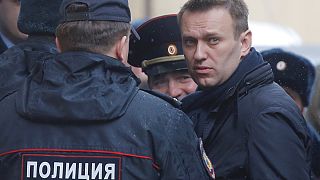 Russian opposition figure Alexei Navalny has been fined 20,000 roubles and sentenced to 15 days in jail, for his role organising what authorities called an illegal protest in Moscow.
Navalny was detained yesterday as he took part in protests he says were legal.
Ahead of the verdict he tweeted from court:
"A time will come when we'll put them on trial too – and that time it will be fair."
Всем привет из Тверского суда. Настанет время, когда и мы будем их судить (только уже честно) pic.twitter.com/zs6ueJMM8o

— Alexey Navalny (@navalny) March 27, 2017
On Sunday, tens of thousands of protesters rallied across the country, calling on prime minister Dimitri Medvedev to quit over corruption allegations. Navalny called the protests after publishing reports alleging the premier held assets and property worth far more than his official salary accounted for.
Medvedev's spokesperson called the allegations against him 'propagandistic attacks'.
Police said 500 arrests were made, whilst human rights groups said the figure was closer to 1,000. The EU and the US have called on The Kremlin to release all peaceful protesters.
Moscow has rejected calls to release protesters detained during what it termed illegal demonstrations and accused organisers of paying teenagers to attend.