Westminster attacker's motive may never be known - police
Comments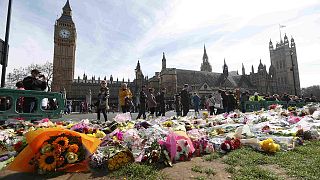 Detectives working for the Metropolitan Police in London say they think Westminster attacker Khalid Masood acted alone.
They have admitted his motive for the attack, in which a police officer and three pedestrians died and dozens were injured, may never be known.
"Even if he acted alone in the preparation, we need to establish with absolute clarity why he did these unspeakable acts to bring reassurance to Londoners and to provide closure for the families of those killed and the victims and survivors of this atrocity,"said Deputy Assistant Commissioner Neil Basu.
"We must all accept there is a possibility we will never understand why he did this. That understanding may have died with him."
"Whilst the attack lasted only 82 seconds, it will remain in the memories of many forever. The thoughts of all those working on this investigation are with those so deeply affected."
Detectives confirm terrorist attack by Khalid Masood over after 82 secs #WestminsterAttackhttps://t.co/WZGyc4cLrUpic.twitter.com/gnU1F8GlJx

— Metropolitan Police (@metpoliceuk) 25 mars 2017
Officers have confirmed that the Khalid Masood's rampage across Westminster Bridge and into the Houses of Parliament lasted only 82 seconds.
What about the related arrests?
Two people arrested in connection with Wednesday's attack have been released and face no further action.
A 27-year-old man who was arrested at an address in Birmingham on Thursday has been released without charge.
A 39-year-old woman arrested at an address in east London on suspicion of preparation of terrorist acts was released on police bail but has now been told she faces no further action.
A 32-year-old woman arrested in Manchester remains on police bail.
A 58-year-old man arrested at an address in Birmingham remains in custody.
Man and woman arrested in connection with #WestminsterAttack released with no further… https://t.co/M98b1D0TYkpic.twitter.com/hsLJjlDw3b

— Metropolitan Police (@metpoliceuk) 25 mars 2017
"We miss him so much, but we are also incredibly proud of Keith"
The grieving family of London police officer Keith Palmer have released a heartfelt statement to the press.
The 48-year-old was fatally stabbed by attacker Khalid Masood outside the Houses of Parliament in Westminster last Wednesday.
Three pedestrians were also killed. Dozens of people were injured.
Masood was shot dead by police.
The Palmer family's statement
"We have been overwhelmed by the love and support for our family and, most especially, the outpouring of love and respect for our Keith."
"We want to thank everyone who has reached out to us over the past few days for their kindness and generosity. The police have been a constant, unwavering support at this very difficult time. It has made us realise what a caring, strong and supportive family Keith was part of during his career with the police. We can't thank them enough."
"We would also like to express our gratitude to the people who were with Keith in his last moments and who were working that day. There was nothing more you could have done."
"You did your best and we are just grateful he was not alone. We care about him being remembered for his selfless bravery and loving nature. We miss him so much, but we are also incredibly proud of Keith."
The family of PC Keith Palmer make a further statement #Westminsterattackhttps://t.co/hqrJWTb3sfpic.twitter.com/1MaBxTp24S

— Metropolitan Police (@metpoliceuk) 25 mars 2017