Rosella Fiamingo wins the Budapest Grand Prix
Comments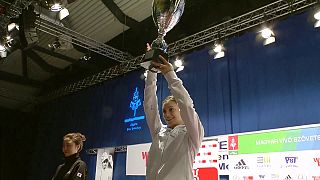 Rosella Fiamingo stood firm against South Korea's Choi In-jeong to win the Budapest Grand Prix.
The 25 year old Italian withstood the barrage from her opponent, putting on a focused performance to win 14-9.
The South Korean is known for her speed and agility but she was not able to find away around the Italian who silver at the 2016 Olympics in Rio.
Jung Jin-sun from South Korea emerged the winner in his bout against Japan's Minobe Kazuyasu.
Jung, the London 2012 Games bronze medallist, showed again his superb technical ability as he made light work of his rival to win the title 15-9