Pulse of Europe: "We are convinced that the majority of people believe in the European Union"
Comments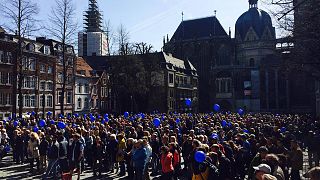 The campaign group Pulse of Europe believes there has been an alarming increase in radicalisation in political life.
The organisation was formed by a group of German citizens in the wake of Brexit and the election of Donald Trump in the US.
They say they have organised 58 demontrations since last November, which have been attended by an estimated 20 thousand people.
Today's #MarchForEurope may be over, but is continued from tomorrow with the PulseofEurope</a> to set another signal for the <a href="https://twitter.com/hashtag/FutureofEurope?src=hash">#FutureofEurope</a> <a href="https://t.co/hMHqx0siuY">pic.twitter.com/hMHqx0siuY</a></p>&mdash; Fabian Weber (fabian_web) March 25, 2017
The group thinks the majority of people believe in the fundamental concept of Europe, its potential for reform and development and they do not want to lose it to nationalist tendencies. According to organisers, the protection of an alliance which secures peace and guarantees individual freedom, justice and legal security is at stake.
Friedrich Jeschke from Pulse of Europe in Aachen has spoken to Euronews.
Euronews: You started in November 2016 in Frankfurt and are a non-party movement encompassing people from all walks of life: young and old, workers and entrepreneurs. Your objective is to emphasise the positive aspects of the EU. You believe the EU is founded on positive values which are guidelines for the future. Does nationalism run against the European interest?
Friedrich Jeschke: One of the essential objectives of the nationalist parties is to exit a "United Europe". They want to rebuild countries' borders and revert to national currencies.
However, borderless countries and currencies are fundamental European concepts, so, yes, nationalism goes against Europe. We are present in ten countries and 14 cities in France, the Netherlands, Sweden, Austria, Luxembourg, Belgium, Portugal, Ireland and even the UK. The movement is growing week-by-week and more cities are joining.
There are also other pro-European movements which have a similar ethos to "Pulse of Europe".
Euronews:Your protests are only held on Sundays?
Friedrich Jeschke:Yes, and as far as possible, all at the same time.
A lot of participants come with their children. In Germany, everyone has the right to hold a demonstration. Security and safety is the responsibility of the police. We have donation boxes and those present are free to contribute as much as they want.
Euronews: What would you like to change or improve in Europe?
Friedrich Jeschke: We think the European idea should be more appreciated and made more understandable for the public. It is a grass-roots movement which starts at the bottom and moves up.
Europe should be fun again. Those who leave the Union cannot help to shape Europe in the future. Change and improvement are the result of greater participation and more debate.
70 years ago, our grandparents were standing face-to-face on the battlefields. Today, we are friends, neighbours and even family. Europe now stands for peace, freedom, dialogue and unprecedented opportunities for the individual development of its citizens.
"Pulse of Europe" also offers support for pro-European politicians. We offer them motivation and inspiration.
Euronews: How can people organise demonstrations for Pulse of Europe?
Friedrich Jeschke: Contact us at the organisation, and the police. You need public support to organise sound systems, leaflets and other materials. Our tool is social media as well as word-of-mouth recommendations and the press.
We had our first demonstration in Aachen on March 5th 2017.
Aymara Defêche for euronews.