EU @ 60: Brexit having 'opposite effect'
Comments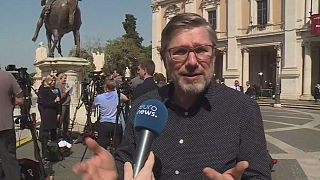 As the European Union marks its 60th anniversary, Brexit hangs over the bloc like a black cloud on a stormy day.
But one French newspaper correspondent says the divorce is likely to be an isolated one.
"The Brexit had exactly the opposite effect of what was expected. There's been no domino effect, the exact reverse in fact. No-one announced that they would hold a referendum, so there was no 'Polxit,' 'Nexit,' etcetera," said Jean Quatremer, from the Liberation newspaper.
"The most Eurosceptic countries said 'no, no, we want to stay, we won't do like the British.' But public opinion awakened, that is to say those were somewhat anaesthetised by the thought that now makes up euroscepticism and europhobia, have woken up because people are not stupid," he continued.
"The fact there's been no war in Europe for more than 70 years, that even if there are inequalities, even if there is unemployment in some countries, it is infinitely less worse than the rest of the world.
"It is an area that attracts the rest of the world, there are not many European refugees in Africa, the Middle East, or even the US. So basically, citizens are much more attached to community building than we imagined."