Protests in Switzerland spark anger in Ankara
Comments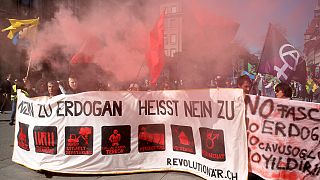 Turkey's foreign ministry has reportedly summoned Switzerland's deputy ambassador to Ankara following protests in Bern.
Around 250 people gathered in front of parliament in the Swiss capital on Saturday to rally against President Erdogan.
They also called for a ''No'' vote in Turkey's upcoming referendum, which could give the Turkish leader sweeping new powers.
"We are afraid when we arrive at the airport in Turkey. We're afraid that we'll be arrested or questioned by the Turkish authorities under false accusations," one man protesting in Bern said.
The demonstration was organised by several Kurdish groups and is also said to have included members of the outlawed PKK group.
During the rally, some protesters held a flag of the Turkish president with a gun pointing to his head.
That drew a furious response from Erdogan.
"Radical terrorist organisations had a picture of me outside the Swiss parliament today showing a gun pointing to my head. Is it possible that there is such a mentality? Is it possible that there is such a way of thinking? And this took place in Switzerland," the Turkish president said.
Erdogan has vowed to review ties with Europe and earlier on Saturday he also said he might hold another referendum on whether to continue EU accession talks.
Ankara has accused some European countries, notably Germany and the Netherlands, of allowing 'No' campaign rallies to take place ahead of April's constitutional referendum vote while banning the 'Yes' camp.