Germany and Turkey diplomatic crisis deepens after Erdogan accuses Merkel of using ''Nazi measures''
Comments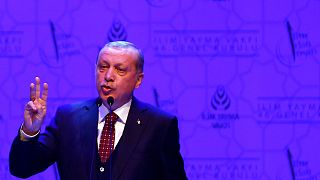 Turkey's President Recep Tayyip Erdogan has blasted Chancellor Angela Merkel, accusing her of using''Nazi measures''.
The intensifying diplomatic row comes after German authorities blocked a series of Turkish political rallies ahead of the country's upcoming constitutional referendum.
''Merkel, You are right now employing Nazi measures. Against who? My Turkish brother citizens in Germany and brother ministers," Erdogan said on Sunday.
The worsening ties between Berlin and Ankara, also saw Turkey summon Germany's ambassador on Sunday to voice anger over a protest in Frankfurt on Saturday. That saw tens of thousands of Turkish Kurds rally against Erdogan and his bid to obtain new powers by changing Turkey's constitution.
Meanwhile, in comments likely to cause further unease in Berlin, Erdogan also accused a jailed German journalist of being a terrorist. He insisted that Die Welt reporter Deniz Yucel, who was arrested last month, would be tried by Turkey's independent judiciary.