Turkey's president threatens to tear up migration deal with Europe
Comments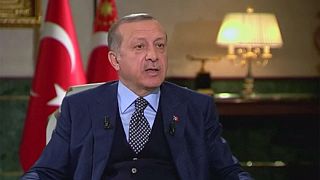 Turkey's president Recep Tayyip Erdogan has once again vowed to re-examine all political and administrative ties with the EU, after a constitutional referendum in April.
Speaking to CNN Turk, Erdogan warned that any review of Ankara's relations with Europe would include a deal to curb illegal migration to the bloc.
"We can continue our economic relations with the European Union, Erdogan said but we may need to review our political and administrative ties."
We will sit down and talk with our government and review everything from A to Z."
Erdogan's latest salvo comes a day after he said Europeans would not be able to walk safely on the streets if they kept up their current attitude towards Turkey.
That drew a furious response from Brussels which summoned the Turkish ambassador on Thursday to explain the comments.
Ties between Ankara and EU countries, notably Germany and the Netherlands, have nosed dived recently after several referendum campaign rallies were cancelled in those countries. The events were designed to woo ethnic Turkish voters ahead of the key referendum vote to change the constitution and expand the president's powers.
On Sunday, Erdogan accused Berlin of employing ''Nazi measures''.
In response Chancellor Angela Merkel warned the Turkish leader that comparing German officials to Nazis must stop, ''no ifs, no buts''.