Watch: whose signature is that? Confusion at the Declaration of Rome signing
Comments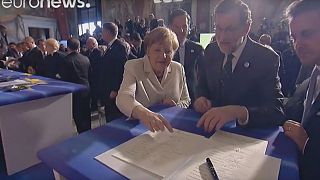 Leaders of the European Union met in Rome on Saturday (March 25) to celebrate the 60th anniversary of the bloc's founding treaty.
But the hot topic of the day centred around what came next…
Twenty-seven of the EU's 28 national leaders gathered in the Campidoglio Palace where the six founding states signed the Treaty of Rome on March 25, 1957.
There, they signed a new declaration in honour of the initial treaty.
But what happened at the end of the ceremony?
Leaders from Germany, Spain, Luxembourg and the Netherlands went deep into discussion after the Declaration of Rome was signed.
It seems the signatures on the document had been mixed up! Word of the mix-up soon spread and more people gathered round to see what was going on.
France's outgoing President François Hollande made a comment on Juncker's signature, but German Chancellor, Angela Merkel, and the President of Lithuania, Dalia Grybauskaitė, noticed that the signatures of the French leader and Cypriot President Nicos Anastiades had also been confused!
And they were not the only ones. Other leaders' signatures had also been muddled.
Needless to say, the confusion led to a great photo opportunity.