Watch: Harrison Ford: "I'm the schmuck who landed on the taxiway"
Comments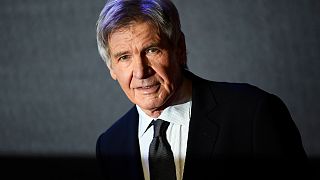 Harrison Ford told an air traffic controller "I'm the schmuck who landed on the taxiway" after a controversial landing at John Wayne Airport on February 13.
The actor, who was piloting his single engine Aviat Husky, landed on a taxiway instead of a runway, flying directly over an American Airlines Boeing 737 jet carrying 110 passengers.
The audio reveals Ford acknowledging the mistake and saying "It's a big deal for me," after the controller asked for his pilot's license information.
There was no damage to the American Airlines jet Ford flew over; it left shortly after the incident.
In 2015, Ford told investigators he did not recall the moments before he crashed his vintage plane onto a Los Angeles-area golf course, suffering serious injuries and badly damaging the aircraft.
The star of "Star Wars" and "Raiders of the Lost Ark" was the sole occupant of the 1942 single-engine Ryan Aeronautical ST-3KR when it went down on a golf course near the Santa Monica Municipal Airport in March 2015.