Westminster horror described by eyewitnesses
Comments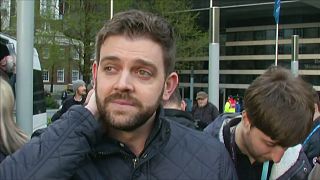 Wednesday's bloodshed in Westminster marked the deadliest attack in London since suicide bombers killed 52 commuters on the city's transport system in 2005.
What started as an ordinary afternoon ended in carnage.
"I was walking across the bridge… and then I heard a big sort of crunch," said eyewitness Rob Lyon.
"Then I saw the vehicle mount the curb and it was coming at us so quickly. I saw some people be hit in front of me. James, who I was with, he sort of shouted 'get out of the way', I think. It happened so quickly. I jumped to the left into the road. I think one of the guys had been hit."
Politicians, journalists, tourists & members of the public became witnesses to the #Westminster attack. These are a few of their stories. pic.twitter.com/WWGSSADgU0

— BBC Breakfast (@BBCBreakfast) 23 mars 2017
Visitors to the tourist attraction, the London Eye, on the other side of the River Thames from the Houses of Parliament, were placed on lockdown – held inside the pods – as the drama unfolded below.
"It seemed unusual… some police boats…and then we looked on the bridge and realised things were stopped and there were a lot of people running. And then we realised there must be something going on, but wasn't sure what it was," said Ellen Brunsberg, who was one of those trapped on the giant observation wheel.
HORROR: Tourists trapped in London Eye for THREE HOURS forced to watch as Westminster attack unfolded BELOW THEM https://t.co/TPqwq7GYWypic.twitter.com/9nmQG28vjZ

— Daily Express (@Daily_Express) 22 mars 2017
Journalist Quentin Letts of the Daily Mail newspaper told LBC radio that he had witnessed the stabbing of the policeman and the shooting of the attacker from his office in the parliament building.
"He (the assailant) ran in through the open gates … He set about one of the policemen with what looked like a stick," Letts said.
"The policeman fell over on the ground and it was quite horrible to watch and then having done that, he disengaged and ran towards the House of Commons entrance used by MPs and got about 20 yards or so when two plain-clothed guys with guns shot him."
Just saw Parliamentary security men shoot a man who had attacked a policeman. Impressive reaction times by police.

— Quentin Letts (@thequentinletts) 22 mars 2017
London knew a terror attack was likely sooner or later.
But for those caught up in the horror, it is something they will never forget.