19-year-old Israeli-US citizen arrested over hoax bomb threats
Comments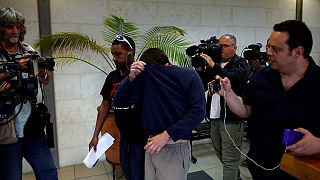 A 19-year-old man has appeared in court in Israel accused of making dozens of hoax bomb threats against Jewish community centres in the US, Australia and New Zealand.
Defence lawyers say the young man, who has dual US-Israeli nationality, has a brain tumour and this may be affecting his behaviour.
The suspect's name has not been made public.
Defence attorney Galit Bash told reporters outside court:
"This is a young person, that because of his very very serious medical condition, did not serve in the army, did not go to high school and did not go to elementary school.
"And this is one of the things the judge told the police to check, to talk to his doctors, to get more documents and to investigate him according to his medical situation."
Jewish organisations in the US have been the targets of more than 100 bomb threats in recent months, with evacuations of community centres in numerous states.
Police in Israel allege the young man arrested was responsible for the majority of the hoaxes.