Two stolen Van Gogh paintings back on display in Amsterdam
Comments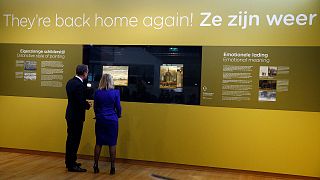 Two priceless paintings by Vincent Van Gogh are once again hanging in an Amsterdam museum 14 years after being stolen by the mafia.
The works, 1882's "View of the Sea at Scheveningen" and the 1884 "Congregation Leave the Reformed Church in Nuenen", are from a period that was crucial to the post-impressionist master's development as a painter.
Each work has been valued by investigators at 50 million euros.
They were discovered last year deep in the heart of Italy last year, hidden behind a false wall in a villa.
They vanished in 2002 after thieves broke into the museum. The owner of the villa where they were found is accused of running a cocaine traffiking ring.
Today, as 2 stolen #VanGogh paintings return to public view at the vangoghmuseum</a>, one of the thieves speaks out: <a href="https://t.co/ygGcBID4Hy">https://t.co/ygGcBID4Hy</a></p>&mdash; Van Gogh: The Life (VanGoghTheLife) March 21, 2017