Stolen Van Gogh paintings recovered by Italian police
Comments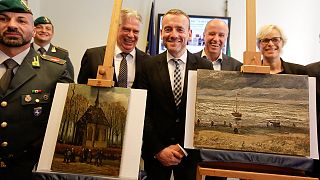 Italian police proudly unveiled two Van Gogh paintings recovered during a mafia raid.
The masterpieces, stolen more than a decade ago in Amsterdam, were found in a house linked to an international drug trafficker in Castellammare di Stabia, near Naples.
Valued at 89 million euros, both paintings were said to be in good condition and the Van Gogh museum director Axel Rueger was clearly overjoyed to see the works again after 14 years.
"The beginning of the week, we were informed that two paintings had been found and were asked whether an expert from our museum could come here to identify them, that was the first we heard about it."
Congregation Leaving the Reformed Church at Nuenen (1884) was painted for his mother while View of the Sea at Scheveningen (1882) is one of the artists early works, and one of just two Dutch seascapes he ever painted. His most recognised paintings being made in France, where he died in 1890.