Passengers complain at new ban on flight carry-on electronic devices
Comments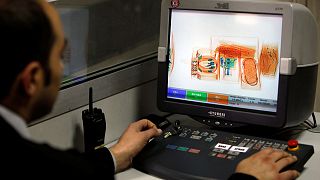 There has been a mixed response to a new ban imposed by the US and Britain on large carry-on electronic devices on planes.
While some passengers said they were reassured, others said it made little sense.
The US ban covers inbound flights on nine airlines operating out of 10 airports. Britain has named different airlines.
"In the airplane, you have people from different nationalities. So the person who would do anything, he would carry his laptop and go to a different airline and do it. So, I don't know how was smart it was to make this decision," said one airline passenger at JFK airport in New York.
Airports
Airports covered by the US restrictions are in Cairo; Istanbul; Kuwait City; Doha, Qatar; Casablanca, Morocco; Amman, Jordan; Riyadh and Jeddah, Saudi Arabia; and Dubai and Abu Dhabi in United Arab Emirates.
Britain said its restrictions would apply to direct flights from Turkey, Lebanon, Jordan, Egypt, Tunisia and Saudi Arabia.
Airlines
The carriers — Royal Jordanian Airlines, Egypt Air, Turkish Airlines, Saudi Arabian Airlines, Kuwait Airways, Royal Air Maroc, Qatar Airways, Emirates and Etihad Airways — have until Friday to adopt the new policy, which took effect on Tuesday.
The British regulations affect British Airways, easyJet, Jet2, Monarch, Thomas Cook, Thomson , Atlas-Global, Pegasus, EgyptAir, Royal Jordanian, Middle East Airlines, Saudia, Turkish Airlines and Tunisair.
Top homeland security experts weigh in on new electronics ban on Middle East airlines. Here's what you need to know: https://t.co/AuY3g5bN1h

— Robbie Gramer (@RobbieGramer) March 21, 2017
The ban is said to be an anti-terrorist measure based on what has been described as " evaluated intelligence". Travel analyst Henry Harteveldt was unimpressed.
"This is an enormous inconvenience. And frankly it creates a lot of stress to the traveler. It makes them more aware of the risks that could happen, as well it's just the inconvenience and hassle of having to put these very expensive devices in their checked luggage where they have no control over it for hours at a time."
Civil liberties groups have raised concerns that the new measure is just another way for President Trump to limit on travel from Muslim-majority countries. The White House has offered no comment.
However one passenger said with everything on his phone he was 'unperturbed' by the ban.
Is this what the new US ban on electronic devices is really all about? https://t.co/YDFShnDgG9pic.twitter.com/UXzZvLFML6

— Ross Marks (@ross_marks) March 22, 2017