Turkish officials halt campaign rallies in Germany, say organisers
Comments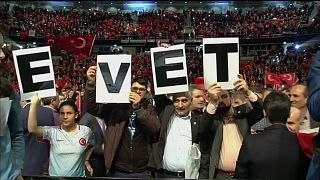 Turkish officials are calling a halt to their campaign rallies in Germany, organisers have said. It comes after a key ally of Chancellor Angela Merkel said they were not welcome in the country.
The announcement from the Union of European Turkish Democrats highlighted the spiralling tensions between the NATO allies, ahead of a referendum on constitutional changes to boost the powers of Turkey's president.
German authorities already cancelled several rallies, leading to President Erdogan accusing Berlin of using 'Nazi' tactics.
"European Union countries have a tougher and firmer stance on the April 16 referendum than our opposition parties. It's more hurtful……….Today's Europe is the fascist, cruel Europe of the World War Two era. Today's Europe is the Europe of the medieval era which saw Turks and Islam as enemies," Erdogan told supporters.
The Netherlands also became entangled in the row with Turkey. The vice-president of the European Commission, Frans Timmermans, added his own voice to the chorus of consternation.
"There is a European solidarity. The remarks towards the Germans and towards the Dutch by president Erdogan are unacceptable. We do not want to be compared with Nazis," he said.
As relations between certain European countries and Turkey deteriorate the future of the EU-Turkey migrant deal and membership talks hang in the balance.