Room at the Inn: Banksy's Walled Off Hotel welcomes its first guests
Comments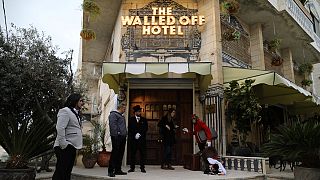 When is a hotel opening simultaneously a political statement and a work of art?
When Bristol-based artist Banksy's guesthouse in Bethlehem receives its first guests.
The Walled Off Hotel is just a stone's throw from the controversial separation wall which runs through the occupied West Bank.
Although being the birth place of Jesus is already a significant attraction for the area, the Mayor of Bethlehem Vera Baboun welcomed the latest tourist draw.
"(It) is a very significant addition…Having Banksy putting all his paintings in the hotel, it has significant political messages but as well this hotel ended to be an artistic value," she said.
The hotel was unveiled two weeks ago, enough time to pique the interest of globetrotters in search of something a little bit different. It is now booked up until June.
"The hotel with the worst view, that's quite interesting. It is quite unique actually and along with Banksy's art and everything else, that's why I want to come here and visit," explained a guest.
The rooms are decorated with Banksy's works, one shows an Israeli soldier and a masked Palestinian youth having a pillow fight.
There are just ten rooms, none with a view, as all look out on Israel's five-metre-high concrete wall.