'World's best teacher' wins $1 million prize
Comments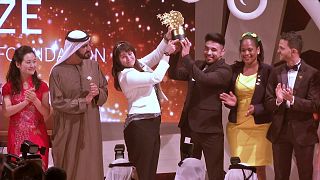 A Canadian who works in a remote school among the Inuit community in the Arctic has been named as the world's best teacher.
Maggie MacDonnell won the annual $1-million Global Teacher Prize for excellence at an award ceremony in Dubai, beating about 20,000 applicants from around the world.
"My dream is that I can work with my students to establish an environmental stewardship programme and help Inuit youth to reconnect with many of their cultural traditions and I look forward to seeking the council and the advice of the Varkey Foundation how to best take those next steps," said MacDonnell after receiving her award.
She was congratulated by Canadian Prime Minister Justin Trudeau – who said she was "shaping the future".
Congratulations to Global TeacherPrize</a> winner Maggie MacDonnell from everyone at the Varkey Foundation. <a href="https://t.co/HzWQCxO5cz">pic.twitter.com/HzWQCxO5cz</a></p>&mdash; Varkey Foundation (VarkeyFdn) March 19, 2017
The Varkey Foundation is a not-for-profit organisation established to improve the standards of education for underprivileged children throughout the world.
Watch as CanadianPM</a> <a href="https://twitter.com/JustinTrudeau">JustinTrudeau congratulates 2017 Global #TeacherPrize Winner Maggie MacDonnell #GESFpic.twitter.com/48PATzdDoz

— Global Teacher Prize (@TeacherPrize) March 19, 2017
Euronews reporter Rita Del Prete said this year the Varkey forum had decided to involve more participants, both teachers and students, and to encourage a move away from a formal style of teaching to a more practical approach.
An interactive method of teaching appears to help youngsters engage more and the foundation wants to give recognition to teachers who use their creativity and imagination.
Arathi Suraj volunteer and student in Dubai described the ten finalists as all having methods which were "out of the box":
"They find innovative way to teach so instead of the traditional classroom set-up where teachers are talking to students, sitting in chairs and tables, they interact with you and you get to do things."
Maggie MacDonnell won the prize for going beyond the normal remit for a teacher. She also worked on mentoring and guiding deprived Inuit youngsters away from problems such as alcohol abuse and even suicide. Her achievement throws a light on how a good teacher can change lives.