Billionaire philanthropist David Rockefeller dies at 101
Comments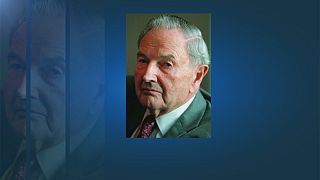 Billionaire philanthropist David Rockefeller has died at the age of 101.
He passed away in his sleep at his home in Pocantico Hills, New York, a spokesperson said.
He was the last of his generation in the famous family, heading the fortune at the helm of Chase Manhattan bank, later JP Morgan Chase, and his influence could be felt from Washington to foreign capitals around the world.
He was the son of John D. Rockefeller Jr., who developed New York's Rockefeller Center, and the last living grandson of oil tycoon John D. Rockefeller, founder of Standard Oil and the family dynasty.
His philanthropic gestures were almost as vast as his art collection. He donated tens of millions of dollars to Harvard, the Rockefeller University and the Museum of Modern Art in New York. In his lifetime he reportedly gave away two billion dollars in total. On his 100th birthday he gave 1,000 acres of land next to a national park to the state of Maine.
When asked why he chose to write his memoirs in 2002, he said it occured to him that he had led 'a rather interesting life'.