White House in lockdown after car bomb scare
Comments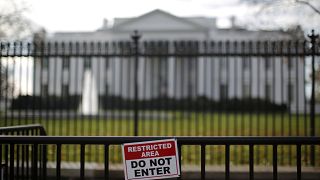 The White House was once again in lockdown on Saturday after a car reportedly containing a bomb drove up to a security check point.
The Secret Service has not confirmed whether a device was found, but said one person had been arrested.
Several streets around the White House were closed following the incident.
It was the second scare in less than 24 hours after another person reportedly jumped over a bike rack entering a buffer zone.
President Trump was in Florida at the time of both incidents.
It's latest White House intrusion. Earlier this month, another man was arrested after scaling a fence, remaining on the property's grounds for more than 15 minutes.
Person in custody after incident at White House gates: Secret Service https://t.co/2BH8SNKanTpic.twitter.com/RQAsRz3lMG

— Reuters Top News (@Reuters) 19. März 2017