Turkey accuses Germany of supporting cleric blamed for failed coup
Comments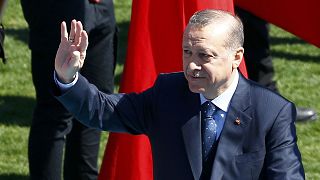 Turkey has accused Germany of supporting a US based cleric it blames for last year's coup.
President Erdogan's spokesman Ibrahim Kalin said doubts raised by Germany's spy agency, the BND, that Fethullah Gulen was behind the failed uprising were proof of Berlin's support
Ankara also said on Sunday that Turkish ministers could plan another rally in Germany ahead of next month's constitutional referendum.
The comments, which threaten to deepen a diplomatic row between both countries, come only a day after tens of thousands of Turkish Kurds rallied in Frankfurt against Erdogan.
The protest in the German city – held ahead of the Kurdish New Year celebration – called for democracy in Turkey and for a No vote in the upcoming referendum. Many demonstrators held symbols of the banned PKK.
Turkey has been locked in a bitter feud with Germany and the Netherlands after both countries blocked its ministers from addressing rallies to expatriate Turks, citing safety concerns.
Ratcheting up the rhetoric at a rally in the city of Eskisehir on Friday, Erdogan called on Turks in Europe to have a least five children, claiming it would be the best response to Europe's ''injustices''.
"I call on my citizens, my siblings living in Europe. The places you live in, work at, which are your new homeland. Embrace those places tightly. Open new workplaces. Get your children educated at better schools. Go live in better neighbourhoods. Drive the best cars. Live in the best houses. Make not three, but five children," Erdogan declared.