Fencing: Safin and Kiefer win Foil titles at Long Beach Grand Prix
Comments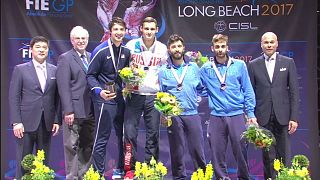 Russia and the USA squared off in both the men's and women's Foil finals at the Absolute Fencing Gear Grand Prix in Long Beach, California.
At the same fencing venue of the 1984 Los Angeles Olympic Games, Russia's Timur Safin, the world number two, defeated world number one Alexander Massialas to take the men's title.
Safin defeated his American rival 15-10 in the final.
The American's enjoyed sweet revenge in the women showpiece match.
World number two Lee Kiefer emerged victorious against Russian surprise package Marta Martyanova, who stunned world number one Arianna Errigo in the semi-finals.
Kiefer was in devastating form and sealed an emphatic 15-4 win.
The FIE Grand Prix series now moves to Budapest for next weekend's Men's and Women's Epee contest.