France Orly airport: man shot dead after grabbing soldier's gun
Comments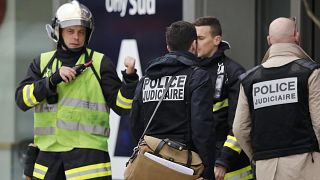 A man has been shot dead at Paris' Orly airport after trying to grab a soldier's weapon.
Security forces reportedly killed the suspect in a shop in the south terminal. The hub was immediately evacuated following the incident.
The man, who was apparently known to the intelligence services, is said to have targeted a female officer having earlier shot another police woman in the north of the French capital.
Addressing the media, France's interior minister Bruno Le Roux
said: ''This suspect was seen in Vitry carrying out a carjacking. He was also seen in a bar where he threatened those inside. And we have linked him to an identity check close to the North of Paris. During that check, which turned badly, he opened fire on a police officer with a gun.''
Police said no other people were injured in the incident.
Anti-terrorist commandos from France's elite Raid force have been carrying out a bomb sweep of the airport as part of the on-going security operation,
Air-traffic both to and from Orly was also suspended with some flights diverted to Paris Charles De Gaulle.
France remains on a state of high alert following a spat of terror attacks claimed by ISIL.