Rutte's Dutch victory helps boost euro currency and European shares
Comments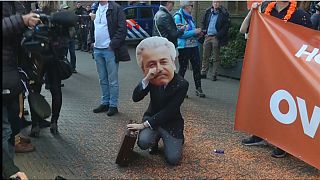 After the Dutch election, EU leaders have been congratulating the country's prime minster who beat the Eurosceptic anti-Islam Geert Wilders.
Mark Rutte won a decisive victory in the vote: 33 seats to Wilders's 20.
Rutte's success, albeit with fewer seats than before, helped boost the euro currency and European shares.
Geert Wilders, who scored a third more seats in the election, warned Rutte that he hadn't seen the last of his Party for Freedom, or PVV.
Many Amsterdam locals celebrated the success of pro-EU parties, D66 and GreenLeft and appeared happy Wilders didn't emerge the biggest victor.
"I'm happy that the xenophobic party didn't win, the PVV, the party who is very against all foreigners, who is very anti-Europe, very angry. They lost. So people like young party, green party, optimistic, they won. So that's good, I think," said local resident Serge Onnen.
"I think we are going to have to see how everything turns out, because the largest party as it is now still has to look for partners to form its coalitionist cabinet with, and that's still up for debate," said Julia from Amsterdam.
But Mabel Berezin, professor of sociology at Cornell University in the United States, said defeat for Wilders should not be considered a sign that European populism is waning.
"The real bellwether election will be Marine Le Pen's quest for the French presidency, starting April 23 – that is where the populist action is and that is what we should be focusing upon," she said.
And, as Alexander Kneepkens points out, "Theresa May seems likely to be facing a more confident EU instead of one careening towards Nexit and Frexit when she triggers Article 50 in coming days."