EU-Turkey migrant deal a 'dangerous precedent', say aid groups
Comments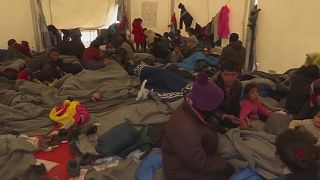 Greece is being used as a testing ground for degrading asylum policies that are setting a dangerous blueprint for the future, according to major humanitarian organisations.
Almost a year after migrants deal between the EU and Turkey, two other groups warn of growing mental health problems among migrants and refugees in the Greek camps.
The agreement, aimed at stemming the flow of undocumented migrants into EU member Greece, has made seeking refuge in Europe "mission impossible" for the most vulnerable, aid groups say.
The International Rescue Committee (IRC), Norwegian Refugee Council and Oxfam say the deal has exposed people to risk and abuse, and accuse Europe of setting a dangerous precedent.
Under the #EUTurkeyDeal, children, women & men continue to be exposed to risks & abuse every day https://t.co/TXnoKdT2cwpic.twitter.com/RaeqS5lI83

— Oxfam International (@Oxfam) March 17, 2017
Oxfam warns that the rights of the most vulnerable are being eroded – and that these conditions will make it too easy for other countries to shirk their responsibilities.
The IRC echoed the same message: "The EU-Turkey deal is playing roulette with the futures of some of the world's most vulnerable. It has become mission impossible for those who need it most to seek refuge in Europe," Panos Navrozidis, the IRC's country director in Greece, said in a statement.
The European Union's statistics office has said that around 1.2 million people sought asylum in the EU in 2016, slightly fewer than in the previous year.
Since the deal came into force, large numbers of asylum seekers have become stranded in Greece as a backlog of asylum applications builds up. Some 14,000 people are stranded on five Greek islands – double the capacity.
The international charities Save the Children and Medecins Sans Frontieres (MSF) found that anxiety, depression and aggression among migrants and refugees were on the rise.
Children are reported to be harming themselves and taking to drugs. Save The Children says their health is rapidly deteriorating.
A note of optimism was struck by the new European Commissioner for Migration Dimitris Avramopoulos and Malta's Interior and National Security Minister Carmelo Abela, who visited the island of Lesbos on Thursday. They defended the EU-Turkey deal and praised what they called the significant improvement in conditions for migrants.