Dozens of Somali refugees killed in airstrike off Yemen
Comments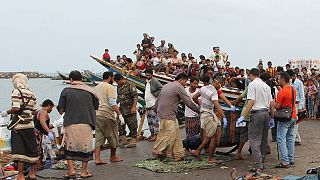 More than 40 Somali refugees have been killed when the boat they were travelling in was attacked, according to the International Organisation for Migration.
A local coast guard in the Houthi-controlled area said the refugees were all carrying UN documents and were on their way from Yemen to Sudan when a helicopter fired on their vessel near the Bab al-Mandeb strait.
"The victims were targeted in the sea as they were heading to Khorz camp in Ras al Araa, Sudan and they had official documents but were recklessly targeted. There is no respect for humanity," said the coast guard, Lieutenant Mohamed al Eliee.
The attack was confirmed by the UN's refugee agency (UNHCR) which said the asylum seekers were moving out of Yemen because of deteriorating conditions.
"We are distressed by this incident and understand that refugees were travelling in a vessel off the coast of Hodeidah which was reportedly impacted during the course of hostilities," said UNHCR spokeswoman in Yemen, Shabia Mantoo.
A sailor who had been operating the boat said 80 refugees had been rescued.
It was not immediately clear who carried out the attack.
A spokesman for the Saudi-led coalition, which is fighting the Houthi rebels in Yemen, said it did not carry out any operations or have any engagement in the Hodeidah area on Thursday.
Hudaydah boat incident: Our thoughts are with the survivors of this tragic event and the families of those deceasedhttps://t.co/ipPjqHvSZA

—

UNHCR

Yemen (@UNHCRYemen) March 17, 2017