Deadly airstrike hits Syrian mosque during evening worship killing up to 58
Comments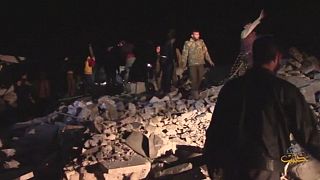 The Syrian Observatory for Human Rights reports air strikes have hit a mosque in the rebel-held village of al-Jina in the northwest of the country.
At least 42 people were killed in the attack with some reports putting the death toll closer to 60.
The jets hit as the mosque was full of worshippers during evening prayer, according to the British-based observatory.
The village of al-Jina is located in one of the main rebel-held parts of Syria, which includes Idlib province and the and the western part of Aleppo province.
The US military said it targeted al-Qaeda militants in an air strike at a meeting location in Idlib province, killing several of them.
It was unclear if the military was referring to the attack on Al-Jina.