British royals in Paris on Brexit 'charm offensive'
Comments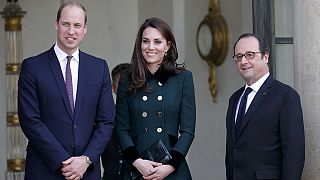 Duke and Duchess of Cambridge have kicked off a two-day tour of Paris by meeting the French President.
It marks the first official visit by Prince William to the French capital since his mother's death in 1997.
The visit comes amid continental anxiety over Britain's looming departure from the EU, and the trip is part of the UK's soft diplomacy which will see them travel to Germany and Poland in July. The French media have labelled the visit a 'charm offensive' to make Europe forget Brexit.
The UK exit was one of the subjects discussed by the young British royals, as they launched a yearlong celebration of Anglo-French relations at the British embassy in Paris.
"This partnership will continue, despite Britain's recent decision to leave the European Union. The depth of our friendship and the breadth of our cooperation will not change," Prince William stated.
On Saturday the couple are expected to meet with victims and first responders of the 2015 terror attacks in Paris, before attending a France-Wales rugby match.