Cable car rescue drama on the Canary Islands
Comments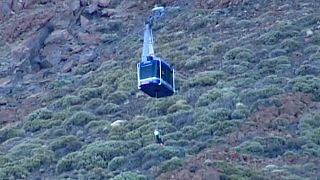 Dozens of tourists had to be evacuated on Thursday morning after a malfunctioning cable-car system forced them to spend the night stranded 3,500 metres up Mount Teide on Tenerife.
Around 60 people stuck in two cable cars were lowered to safety using ropes and a pulley system.
Dozens more trapped at the top were either flown down on helicopters or made their own way down by foot.
Many were exhausted by their unexpected holiday experience but no serious injuries were reported.