'Storm Stella' brings blizzards and disruption to US northeast
Comments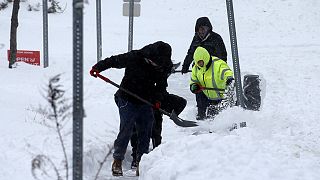 Snow has been piling up in parts of the northeastern United States as a huge winter storm named "Stella" brought blizzards and disruption in several states.
In Washington the scenes helped explain why the visit of German Chancellor Angela Merkel was postponed. Snow blanketed the streets, and as elsewhere, schools were closed and traffic became jammed up.
New York City too has had its share of snow – along with strong gusts of wind and icy rain.
Governor Andrew Cuomo said the storm spared the city itself and hadn't been as bad as predicted – but at least a couple of districts had experienced blizzard conditions.
"Mother nature is an unpredictable lady sometimes. She was unpredictable once again today. All the forecasts said the storm would hit New York City and Long Island the heaviest, although it would affect the entire state," he told a news briefing.
Winter Storm Stella gave these two dudes a chance to play golf in an empty Times Square https://t.co/Sgqk4tneLTpic.twitter.com/R4DneyqKvE

— Bleacher Report (@BleacherReport) March 14, 2017
The National Weather Service (NWS) warned that some 50 million people from Pennsylvania to Maine might be affected.
Shoutout to all the union members hard at work keeping us safe and warm during winter storm #Stella#1upic.twitter.com/hsqGzsvVyx

—

AFL

-

CIO

(@AFLCIO) March 14, 2017
Airlines cancelled several thousand flights across the country. LaGuardia in New York was among the worst hit where some airlines grounded all services.
"All the other flights are booked so they have to book us on Friday. My vacation ends Wednesday so I'm spending half of my vacation in this airport," said passenger Lisa Pierce, who was trying to travel to Nashville, Tennessee.
Some travellers went to hotels – others, unwilling or unable to pay the price, or perhaps just hoping for conditions to improve, waited and slept at the airport.
The storm – and the troubles it has brought – comes near the end of an unusually mild winter along much of the East Coast.
How much snow did Winter Storm Stella drop in your area? https://t.co/YPW9LEvCsF

— Vox (@voxdotcom) March 14, 2017