French elections: François Fillon under formal investigation
Comments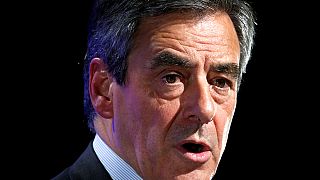 François Fillon has been placed under formal investigation on suspicion of embezzling state funds.
Once the favourite to win the upcoming French presidential election, his campaign has been plagued by allegations he paid his Welsh wife Penelope and two of their children hundreds of thousands of euros in public money for assistance.
The right-wing Republicans candidate has reportedly refused to respond to judges' questions, but read out a statement in which he once again insisted his wife's job was not fictitious.
Fillon has so far refused to pull out of the presidential race, despite making this comment in January:
"There's only one thing that could prevent me from being candidate. If my honour was affected, if I were put under investigation."
According to a judicial source, the 63-year-old former prime minister is being investigated for the alleged diversion of public funds, complicity in misappropriating funds, receiving the funds and not declaring assets fully.
Under French law, a formal investigation suggests there is "serious or consistent evidence" pointing to the probable involvement of a suspect in a crime.
While it is one step on the road to a trial, a number of investigations are, nevertheless, dropped before they reach court.