Netherlands-Turkey row heats up in Rotterdam
Comments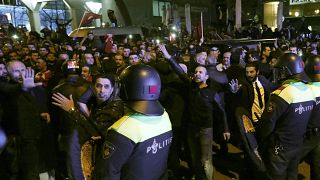 Relations between Turkey and the Netherlands are on shaky ground, amid a growing diplomatic spat over Turkish campaigning in Holland.
After the Dutch government barred Turkey's foreign minister from landing in Rotterdam, the row reached new levels late on Saturday night, when the Turkish Family Affairs Minister was prevented from entering the consulate.
Dutch broadcasters reported that Fatma Betul Saya Kaya was detained before being escorted out of the country.
Minister zit hoogstwaarschijnlijk in deze escorte. Vijf wagens en DSI. #Rotterdam#turkijerelBNR</a> <a href="https://t.co/fpxVpic3id">pic.twitter.com/fpxVpic3id</a></p>&mdash; Jeroen Stans (JeroenStans) March 12, 2017
She had travelled to Rotterdam from Germany after the Dutch authorities revoked landing rights for the foreign minister.
She insisted on entering the consulate to address roughly 2,000 pro-Erdogan protesters who had gathered outside for a rally to support the constitutional reforms that would extend President Erdogan's powers, which is to be put to a referendum vote in April.
The latest developments follow a fiery war of words, with Erdogan branding the fellow NATO member a 'Nazi remnant' for barring the foreign minister's rally, while the Dutch premier responded that the comments were 'crazy'.
The anger filtered down to the streets of Rotterdam, where riot police broke up protests by force.