Egypt: bust of ancient Pharaoh lifted from slum
Comments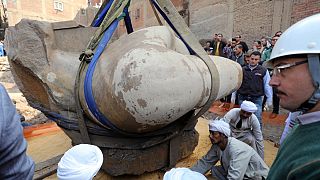 A bust of a statue believed to depict one of Egypt's most famous rulers has been lifted out of a Cairo slum.
Local archaeologists and a team from Leipzig, Germany, think the quartzite figure could be a likeness of Pharaoh Ramses II, who led Egypt over 3,000 years ago.
The discovery of parts of the eight-metre sculpture and a limestone statue of Ramses II's grandson, Pharaoh Seti II, was announced on March 9.
But they were submerged in groundwater and excavation has proved difficult, so far.
Egypt's Antiquities Minister hailed it a significant discovery.
"Now my colleagues of the conservation department in the ministry will work on it, and the colossus, as well as the head, as well as the statue of limestone of the Seti II, will be in display in a few days in the garden of the Cairo museum. It's a big discovery. In my opinion, it's one of the greatest discoveries of the last years," said Khaled al-Anani.
It's hoped the find will boost Egypt's waning tourist industry.
It has suffered numerous setbacks since 2011, when autocrat Hosni Mubarak was toppled in an uprising.
The number of visitors to Egypt slumped by millions between 2010 and 2011, from over 14.7 million to 9.8 million.
October 2015 saw another hit to the industry, when a bomb attack brought down a Russian plane carrying 224 people from a Red Sea resort.
In the first quarter of 2016 numbers had dropped to 1.2 million, compared to 2.2 million in the same period in 2015.