Carlos the Jackal on trial in Paris
Comments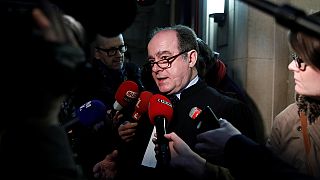 Carlos the Jackal, formerly one of the world's most wanted terror suspects, is on trial again in Paris.
The Venezuelan behind a string of attacks in France in the 70s and 80s faces fresh charges relating to a deadly attack in a shopping centre in the capital in September 1974.
Carlos, whose real name is Ilich Ramirez Sanchez, is already serving two life sentences for killings in the same period.
His lawyer, Isabelle Coutant, said:
"Carlos is in a very combative frame of mind. He's in good physical and mental shape after 22 years of detention. It's quite incredible, but that's the way it is, it's his nature. (He has) a mind and body of steel, so he's in fine form and ready to fight in this court case."
Georges Holleaux, who is representing the victims' families appeared to disagree with Coutant:
"It is thanks to other investigations and other facts that we found evidence regarding the shopping centre (attack). That is the first thing. And secondly, a dismissed case is never definitive."
Two people were killed and 34 injured in the assault.
The now 67-year-old suspect allegedly told a newspaper he had carried out the grenade attack in a shopping centre in the Latin Quarter of Paris. However, he later disavowed this and is pleading not guilty in court.
The crimes he's been convicted of were carried out in the name of Palestinian and Communist causes.