Netherlands refuses landing rights for Turkish foreign minister's plane
Comments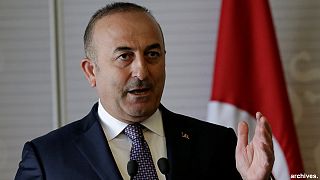 The Dutch government says it has refused landing rights for the Turkish foreign minister's plane, as the row over the holding of Turkish political meetings in the EU escalates.
A statement from the Netherlands says the flight was refused because of "public order and security concerns".
It also says the threat of sanctions from Turkey over the issue, and a call for a "massive public rally", made it impossible to find a "reasonable solution".
The Turkish Foreign Minister, Mevlut Cavusoglu, earlier vowed that he would travel to Rotterdam, despite a ban on him addressing a political meeting of ex-pat Turks.
Turkey is attempting to garner support among ex-pats in the EU for an upcoming referendum on extending the powers of the Turkish President, Recep Tayyip Erdogan.
In response to the flight ban, Erdogan slammed the Netherlands as "Nazi remnants and fascists".
The Dutch Prime Minister Mark Rutte said Erdgan's comments as "out of line".
Earlier he said: "Many Dutch people with a Turkish background are authorised to vote in the referendum over the Turkish constitution.
"The Dutch government does not have any protest against gatherings in our country to inform them about it," he said on Facebook.
"But these gatherings may not contribute to tensions in our society and everyone who wants to hold a gathering is obliged to follow instructions of those in authority so that public order and safety can be guaranteed," Rutte added.
Bans on similar meetings have been imposed in Germany and Austria also barred Turkish officials from holding referendum rallies.
Erdogan caused outrage in Germany last week when he also condemned bans on meetings there as "no better than what the Nazis did".
The Netherlands is in the middle of a tense election campaign, in which immigration issues are being hotly debated.