S.Africa: taxi drivers cause Johannesburg jams in Uber protest
Comments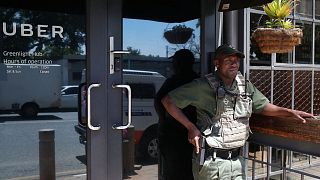 In South Africa, roads leading to Johannesburg's airport have been disrupted by taxi drivers protesting against Uber.
Hundreds of drivers blocked the main highway, causing long jams. They argue the ride-hailing app is not licensed to operate.
It's the latest of several protests by taxi drivers worldwide as their traditional business model is challenged. In South Africa Uber has attracted over half a million users and 4,000 drivers.
Uber drivers also demonstrated outside the company's headquarters in Johannesburg, accusing it of not doing enough to protect them from violence.
South Africa's taxi drivers block roads to main airport https://t.co/7c6xzvHSxY

— africanews (@africanews) March 10, 2017