Nigeria: Osinbajo will continue to act as president while I take rest -Buhari
Comments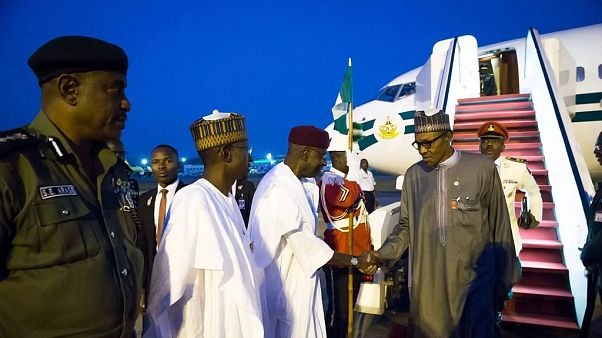 Nigeria's president, Muhammadu Buhari on Friday asked the vice president, yemi Osinbajo to continue in the capacity of acting president while he takes rest.
I deliberately came back towards the weekend, so that the Vice President (Yemi Osinbajo) will continue and I will continue to rest.
The ailing president said he would undergo further medical tests in Britain within weeks.
"I deliberately came back towards the weekend, so that the Vice President (Yemi Osinbajo) will continue and I will continue to rest," Buhari said in Abuja. "All I will need is to further follow up within some weeks," he said.
The former military ruler left the country on January 19 and has been on medical leave in London. Details of his health condition has not been made public.
An official statement on Thursday said President Buhari had left Nigeria for a "vacation, during which he had medical check-ups. The leave was extended based on doctors' recommendation for further tests and rest." the statement said.
The news of his return to the country was made public last night in a statement by his media aide, Femi Adesina.
Adesina recalled that the president left the shores of the country on January 19 for a vacation, during which he was schedule to undergo routine medical check-ups.
According to him, the president has expressed gratitude to Nigerians in all parts of the country and beyond who supported him with prayers and good wishes during his sick leave.
It is the second time in less than a year that Buhari, who came to power in 2015, has sought medical assistance overseas. Last June, he spent nearly two weeks, again in London, for treatment for an ear infection.
Little information has been made public about his latest stay in the UK capital, but he was pictured on Thursday meeting the most senior cleric of the world Anglican congregation, Archbishop of Canterbury Justin Welby.
Last month, the president was visited by numerous Nigerians including two leaders of the ruling party, All Progressives Congress (APC), Senator Bola Tinubu and Chief Bisi Akande.
He had earlier been visited by the Governor of Ogun State, Senator Ibikunle Amosun, and Senator Daisy Danjuma.
He was also visited on February 23 by a National Assembly team led by Senate President Bukola Saraki. Also in the team was the Speaker of the House of Representatives, Hon. Yakubu Dogara, and the Senate Leader, Senator Ahmad Lawan.
Buhari may go for follow-up checks 'within some weeks' https://t.co/NisB5cwJfspic.twitter.com/ZhRa4tl2v2

— The Spark (@TheSparkNG) March 10, 2017
PHOTOSPEAK: Pres. Muhd Buhari arrived Kaduna at exactly 7.41am, after 49days vacation. He was received by Dep. Gov. of Kaduna, Bala Bantex pic.twitter.com/yirCnFky2T

— Sumner Shagari Sambo (@Sumner_Sambo) March 10, 2017
The main opposition People's Democratic Party (PDP) has called for more transparency about the president's health condition.