France presidential election: socialist Hamon vows to fight on despite dismal poll ratings
Comments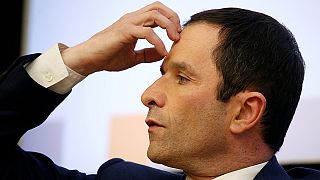 France's socialist presidential candidate Benoit Hamon has insisted he is a fighter despite persistently poor poll ratings only weeks before the country's presidential election.
Appearing on national TV on Thursday, left-winger Hamon attempted to relaunch his campaign which has so far showed no signs of taking off.
"I'm a fighter. From where I have come I've learned to fight even when the wind is bad," Hamon said.
Earlier, prime minister Bernard Cazeneuve also joined Hamon in a bid to unite socialists. It comes after many in France's ruling socialist party chose to support centrist candidate Emmanuel Macron instead.
That has left Hamon lying a distant fourth place in the polls nationally, well behind even the scandal-hit conservative candidate Francois Fillon, who is being investigated over payments to his family.
Earlier, former French premier Alain Juppe reaffirmed his support for Fillon, just days after heavily criticising the centre-right candidate's decision not to end his presidential bid.