First time winners light up the Baku judo Grand Prix
Comments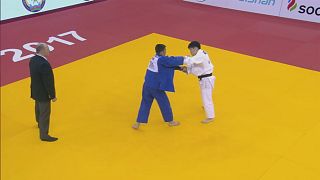 Day one of the judo Grand Slam in Baku,
Azerbaijan provided surprise after surprise.
In the mens -60 kg the Japanese judoka Toru Shishime took on the Uzbek Mukhridden Tilovov in the final.
Toru, winner of last years Paris Grand-Slam,
claimed the top spot with two Waza-ari.
Toru Shishime doubles his golden Grand Slam haul for Japan https://t.co/B1kWQCga2I Shishime top the top 5 of the World Ranking #JudoBaku2017pic.twitter.com/IntrK9HHUU

— JudoInside.com (@JudoInside) 10 March 2017
Tilovov, Grand Slam winner in Tashkent, also suffered two penalty points to Toru's one.
If it was football you would say that Israel's Tal Flicker won the match on penalties as indeed he did.
Great day for the Israeli Team in Baku. They took 5 medals including 1 gold by Tal Flicker.JudoInside</a> <a href="https://twitter.com/JudoCrazy">JudoCrazypic.twitter.com/LnjJ8T4nMR

— JudoHeroes (@JudoHeroes) 10 March 2017
Flicker defeated Tomofumi Takajo of Japan 1-2 on penalty points for his first judo Grand Slam victory.
In the women's -52 kg Romania's Alexandra-Larisa Florian tasted her first Grand Slam final victory by beating the Hungarian Reka Pupp.
Florian won by one Waza-ari. The contest was close Florian picked up two penalty points the Pupp's one.
After the bout she expressed her delight:"I feel perfect, I wanted a lot to win a grand slam medal – the first medal is the brightest one, this is really superb."
Brazil's Stefannie Koyama is the undoubted star at Baku, making her Grand Slam debut at the age of 21 she advanced all the way to the final.
Globo Esporte: Aos 21 anos, Stefannie Koyama ganha ouro para o Brasil no Grand Slam de Baku … pic.twitter.com/mFtJO41X2Y

— Nação Flamengo (@nacaoflamengo_) 10 March 2017
Waiting Serbia's Milica Nikolic a judokja with vast experience and Grand Prix winner in Zagerb in 2016.
Young Stefannie claimed an outstanding victory with two Waza-ari, Nikolic failed to register.
The Brazilian clearly one for the future.
In the -57 kg final Chen-Ling Lien from Chinese Taipei met another Serb Jovana Rogic.
The experience of Lien paid off keeping her opponent under control claiming a win by Waza-ari.
In so doing she becomes the first Chinese Taipei judoka to win Grand Slam gold.
Its been a day of full of firsts on day one of the judo Grand Slam in Baku.