MSF staff in Serbia detail Hungary police 'abuse' of migrants
Comments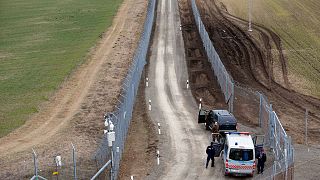 The humanitarian organisation Medecins Sans Frontieres (MSF) – also known as Doctors Without Borders – has given more details after alleging that Hungarian border police have been systematically abusing migrants.
Doctors say people who have attempted to get into the country from Serbia often asked for wounds to be treated after they had been attacked.
Migrants have complained that when caught they have been stripped of clothing, footwear, phones and money, as well as beaten.
MSF staff at a clinic in Belgrade spoke on the first anniversary since the Balkan migration route was formally closed.
"There have been plenty of complaints from people who endured physical violence which unfortunately could not be medically classified because it left no visible traces on the skin. Of physical abuse, people have been struck, we've seen bruises, and since the middle of last year we have cases of dog bites," said Dr Momcilo Djurdjevic.
"The [Hungarian] police made me take my shoes off and stand in the snow for an hour". This 29 y/o is one of many who've told the same story. pic.twitter.com/f6KA7JFQ0g

—

MSF

Sea (@MSF_Sea) March 7, 2017
Reuters quoted an Afghan teenager named Faysal who claimed to have been mauled by a police dog after cutting through the border fence and crossing into Hungary.
Hungary strongly denies claims of abuse along the Serbian border.
Prime Minister Viktor Orban's office said earlier this week that eight cases of alleged mistreatment had been investigated, but no proof of abuse of refugees by border personnel had been found.
Hungarian government spokesman Zoltan Kovacs has claimed that the border fence is protecting the EU's borders lawfully. He has also defended the police, telling AFP that they were "performing their duties lawfully, professionally and proportionately… treating migrants humanely and with respect for their human dignity".
Hungarian government "categorically rejects' claims of police brutality against migrantshttps://t.co/tBgwjESBE5pic.twitter.com/J3WS7Fqf0b

— About Hungary (@abouthungary) March 7, 2017
Parliament has approved plans to confine asylum-seekers in container camps while their applications are processed – in a move which has provoked condemnation from human rights groups.
"Automatically depriving all asylum seekers of their liberty would be in clear violation of Hungary's obligations under the European Convention on Human Rights," said Nils Muiznieks, the Council of Europe's human rights commissioner.
Since countries from Greece to Austria closed their borders to refugees and migrants, people have continued to enter but a backlog has been created in Serbia due to the impenetrable Hungarian border.
An estimated 2,000 people are not in official shelters but are squatting in derelict warehouses near Belgrade's train station.
#Hungary's new bill allows the detention of asylum seekers & push backs to #Serbia. We've seen push backs before so far they look like this: pic.twitter.com/VW0G8lXL1A

—

MSF

Sea (@MSF_Sea) March 7, 2017
Violence in Hungary – "It is just shocking that this is happening with European leaders turning a blind eye." https://t.co/RslFQ9EbYP

— Doctors w/o Borders (@MSF_USA) March 9, 2017
Hungary to arm new 'border hunters' after six-month crash course https://t.co/9UYldi8Wt2

— Reuters World (@ReutersWorld) March 9, 2017