Donald Tusk re-elected president of EU Council
Comments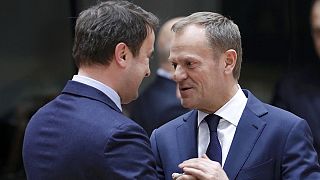 Donald Tusk has been re-elected President of the European Council, the Prime Minister of Luxembourg has confirmed.
The issue was high on the agenda at today's EU summit (March 9).
His mandate ends on May 31, but was widely expected to be renewed for two and a half years.
Issues on a local political level mean Poland was against its compatriot's re-election, but both Hungary and France came out in support of Tusk.
"For reasons of continuity, coherence and stability, I think Tusk is the candidate for the presidency of the Council and I don't see how any country could oppose this decision," said France's President, François Hollande.
German Chancellor Angela Merkel says the Union's survival is dependent on a so-called two-speed Europe.
Minus UK Prime Minister Theresa May, the leaders will meet again on Friday (March 10) to organise a 'unity' summit due later in the month.