Bridge collapses onto motorway in Italy killing two
Comments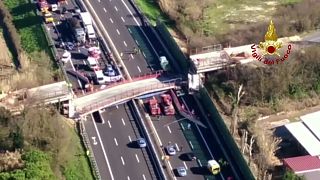 Two people have died and two others injured when a bridge collapsed onto a busy motorway near Ancona, Italy.
The victims are believed to be a couple in a white Nissan whose vehicle was passing under the bridge at the time it collapsed.
Highway firm Autostrade for Italy said the bridge was temporarily in place to support an overpass that had been closed to traffic.
The accident happened during work to widen the A14 motorway between Ancona and Loreto from two to three lanes.
The two injured people were workers.
The highway is presently closed to all traffic.