Top EU court rules member states don't have to issue visas to refugees
Comments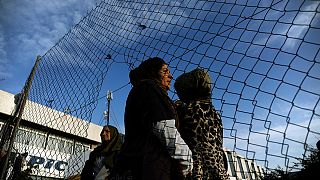 The EU's top court said on Tuesday that member states don't have to admit people on humanitarian grounds, even if they are at risk of torture or inhumane treatment.
The European Court of Justice (ECJ) was ruling on the case of a Syrian family who applied for a visa for Belgium at the country's embassy in Lebanon.
Orthodox Christians, they said they risked violence and religious persecution in Aleppo. But Brussels refused their request, leading to the court battle.
With Belgium and other EU states getting to grips with an influx of migrants and refugees over recent years, the ruling cuts off a possible new channel for asylum seekers via embassies across the globe.
#Syria: Over 65,000 people displaced in #Aleppo as fighting continues @AJEnglishhttps://t.co/ywzd7RTRMg

— UNICEF (@UNICEF) 6 mars 2017
"NGOs (non-governmental organisations) wanted to move the EU border to the embassies but the ECJ has reined them in. A good thing," said Belgium's migration minister, Theo Francken, who tweeted in celebration of the ruling: "Yesss! [We] won!"
Yesss! Gewonnen! pic.twitter.com/OgMFW6F1Oe

— Theo Francken (@FranckenTheo) 7 mars 2017
The decision means members are not required under EU law to grant visas to people ultimately seeking asylum but can still do so under national law.
The ECJ ruling goes against advice from its advocate general, who said last month that such visas had to be issued under EU law.
"Had the court ruled otherwise, it would have been a huge, a massive problem," said a diplomat in Brussels who is involved in EU migration policies.
Meanwhile, Hungary's hardline approach has been taken one step further with parliament voting in favour of plans to systematically detain migrants.
Those whose applications are not immediately approved won't be allowed to move freely around the country but will be detained in camps that they can only leave outward, toward Serbia, according to the bill.
Cécile Pouilly, spokeswoman for the UN Refugee Agency, the UNHCR, said that would effectively condemn asylum seekers, including children, to prolonged detention in shipping containers surrounded by barbed wire.
Deeply concerned at new asylum law voted by Hungarian Parliament this morning. https://t.co/RPnZwxuf8V …

— Cecile Pouilly (@cecilepouilly) 7 mars 2017
New law in Hungary will have terrible physical & psychological impact on people who have already greatly suffered https://t.co/K9SsNr1uAXpic.twitter.com/UdZUCRsqEI

— UN Refugee Agency (@Refugees) 7 mars 2017
The measures will also tighten controls on Hungary's border, which has been a focal point of Europe's migration crisis since 2015.
Hungary builds new high-tech border fence - with few migrants in sight https://t.co/4PAnS84xbSpic.twitter.com/ZFCmmHA16N

— Reuters Top News (@Reuters) 2 mars 2017
Expanding an 8-kilometre zone along the border where summary expulsions have been the practice since last summer, police can now detain illegal migrants anywhere in the country and return them to the Serbian border to be expelled.
The southern border with Serbia marks the external frontier of the EU's passport-free Schengen area, and hundreds of thousands of people have crossed into the country.
Prime Minister Viktor Orban sought to justify the move, saying Hungary had to act to defend itself and describing the influx of migrants – many of them fleeing conflict in the Middle East and Africa – as a "Trojan horse for terrorism".
#InvisibleWounds: 6 yrs of horror for #ChildrenofSyria has led to an increasing deterioration of their mental health>https://t.co/eT5jc1phK7pic.twitter.com/qIXLFqSrop

— Save the Children (@save_children) 7 mars 2017
with Reuters