Protest held in support of refugees
Comments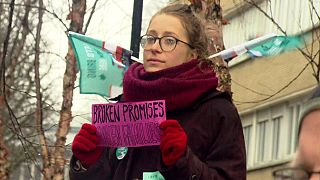 A group of demonstrators on Monday held a protest in support of refugees close to the EU headquarters in Brussels, Belgium.
It was in reaction to 160 thousand of refugees in Italy and Greece not being relocated other countries.
Protesters displayed effigies of the leaders of EU governments and waved banners calling for a softer migration policy in Europe.
"We are fighting a situation where people in Greece are stuck there. There is about 63 000 people. In September 2015 we promise to relocate them for the rest of their asylum procedure and we just didn't. It's more then one and a half year later and 85 percent is still stuck there," said Rikko Voorberg, one of the demonstrators.
They said the protest was being held to put pressure on EU leaders ahead of a summit next week.