Ex-Argentine president fends off corruption charges in court
Comments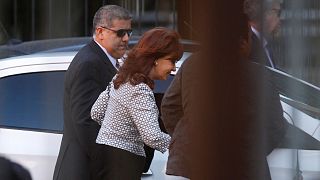 Former Argentine President Cristina Fernandez de Kirchner has fended off corruption allegations in court claiming she was the victim of "judicial persecution" and a media "witch hunt".
It is the fourth case against Kirchner to reach court since she left office in 2015.
The charges relate to allegations of illegal enrichment using a family real estate company called Los Sauces, located in the southern Santa Cruz province.
The former leader's two adult children – daughter Florencia, 26, and son Maximo, 40 – have also been called to appear before the court to explain their roles in the company.
The judge now has ten days to decide whether to put Kirchner on trial or dismiss the case.
#Argentina: Kirchner siblings arrive at court as hundreds rally in their support https://t.co/uKgc6uJauH#nieuwspic.twitter.com/k6147oYdEM

— info▪1440 (@i1440) March 6, 2017