Anger and dismay in countries targeted by Trump travel ban
Comments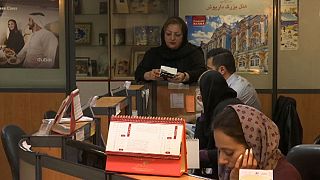 The United Nations has voiced its concern amid reports that tens of thousands of refugees already vetted for resettlement to the United States will now be stranded in crisis zones.
"We understand its suspension is temporary," UN spokesperson Cecile Pouilly told reporters in Geneva.
"We are trying to work with the US administration constructively, positively, to find solutions."
Stranded by the travel ban: a Syrian family's American dream is crushed. An example of the real people affected: https://t.co/ZD54pNP7tnpic.twitter.com/Ohuw3atj72

— IRC Intl Rescue Comm (@theIRC) 6 mars 2017
In Iran, there is confusion among prospective travellers.
The new regulations don't apply to those who already have valid visas. But when is a visa valid? Anxious clients are turning to travel agents to find out if they can make planned trips after all?
Zohreh Elahi, head of the Parsavosh Travel Agency in Tehran, denounced President Trump's decisions, saying they are "made overnight, banning or allowing this or that and causing instability in America's executive policies. Many people may change their mind and decide not to travel to that country at all."
Yemeni citizens have been expressing their anger at featuring on the 'banned' list rather than, for example other, wealthier, more powerful countries in the region.
In Sanaa, political analyst Hassan Al-Wareeth was scathing.
"The decision is racist, first of all and secondly, if they really wanted to fight terrorism, there are nationals of other countries who are fully involved in the issue of terrorism and among those countries are the Gulf States," he said.
The Trump travel ban also includes Somalia and has particular resonance for its president, Mohamed Abdullahi Mohamed, a dual US-Somali citizen.
"We have to communicate with the US government because there is a large Somali community in the United States," he said in Mogadishu on Tuesday.
A desire for dialogue but will President Trump be listening?