Iraq off 'banned list' in new Trump US travel order
Comments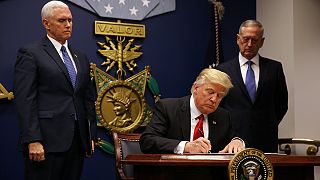 With his controversial first travel ban blocked by the courts, President Donald Trump has signed a revised executive order preventing citizens from six Muslim-majority nations from travelling to the United States but removing Iraq from the list.
Presented by senior administration officials on Monday, it keeps a 90-day ban on US entry by citizens of Iran, Libya, Syria, Somalia, Sudan and Yemen.
The White House said the new executive order also ensures that tens of thousands of legal permanent residents in the United States – or green card holders – from the listed countries would not be affected by the travel ban.
"It is the president's solemn duty to protect the American people," Secretary of State Rex Tillerson told reporters after Trump signed the new order.
"As threats to our security continue to evolve and change, common sense dictates that we continually re-evaluate and reassess the systems we rely upon to protect our country."
The new measure, due to take effect on March 16, is watered down from the original. But critics are still branding it a ban on Muslims.
This isn't about keeping America safe. Let's call it what it is. This ban is a racist and anti-Islamic attempt to divide us up. https://t.co/nDrGdOUNUs

— Bernie Sanders (@SenSanders) 6 mars 2017
The White House says Iraq was taken off the banned list because of new vetting procedures imposed by its government and in recognition of its work with the US in countering ISIL.
The leader of the minority Democrats in the Senate, Chuck Schumer, said he expected the revised order to have the same uphill battle in the courts as the original version.
"A watered down ban is still a ban," he said in a statement.
"Despite the administration's changes, this dangerous executive order makes us less safe, not more, it is mean-spirited, and un-American. It must be repealed."
To be clear, this updated #MuslimBan makes us less safe, not more, it is mean-spirited & un-American. pic.twitter.com/Td3irJtqU1

— Chuck Schumer (@SenSchumer) 6 mars 2017
Trump's original ban resulted in more than two dozen lawsuits in US courts. Attorney General Bob Ferguson of Washington state, which succeeded in having the previous ban suspended, said he was "carefully reviewing" the new order.
with Reuters